How to find reliable LCD suppliers in 2022?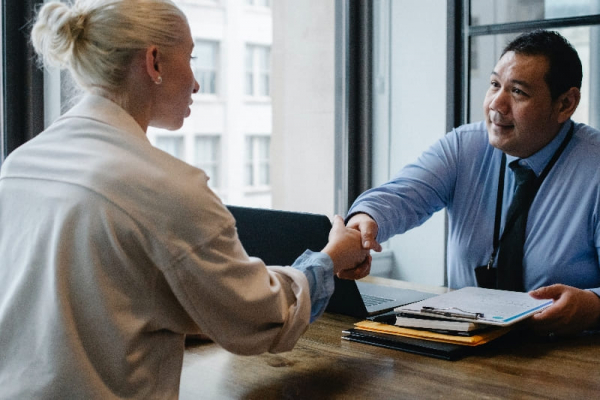 VISLCD has been engaged in LCD production and sales for 9 years, and we have met many customers who shared with us that they had encountered unreliable LCD suppliers.
For example, the answer is not what you asked for, the LCD product cannot be delivered on time, the price of the LCD suddenly increases, the LCD module suddenly breaks down during the use of the product, or even the LCD is discontinued after less than 1 year of delivery…etc. In addition, there are many customers who are not sure what type of LCD supplier they are looking for.
In view of all the above, VISLCD has written this article to share knowledge about LCD suppliers and other issues related to LCD. We believe it will be helpful to LCD customers.
To understand LCD suppliers, we first need to know what kinds of LCD suppliers are available. Then LCD customers can find the right supplier based on information such as their product  applications, LCD requirements and forecast volume.
CONTENTS
1. LCD Original Manufacturer

2. LCD Agent

5. Other Points
1. LCD original manufacturer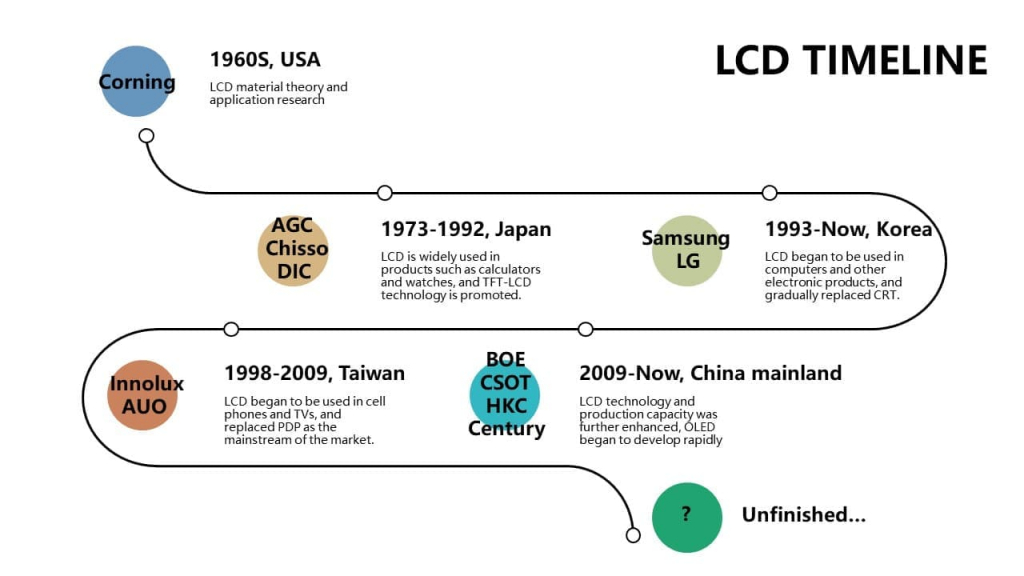 LCD original manufacturer refers to the original manufacturer of LCD panel. Originated from the USA in the 1960's, after more than 50 years of development, the manufacturers are now mainly located in China mainland, Korea and Taiwan. Among them, the Chinese manufacturers in recent years rely on the rapid scale, technology development and price advantage, has gradually occupied the main market share.
LCD original factories are characterized by huge fixed investments, fixed costs and equipment depreciation.
The video below is an official video presentation of the BOE display factory and Century Display (CTC), which will give you a more visual understanding of the original LCD manufacturer.
The 5.1 generation TFT-LCD line of Century Display in Shenzhen, China, for example, has been put into operation since 2008 with a cumulative fixed investment of more than $4 billion, and the cost of water, electricity, employee wages and equipment depreciation is as high as $0.5~100 million/month. The monthly production capacity is about 100,000 sheets ( 1300*1200mm/sheet). If all of them are used to produce 7-inch LCD panels, then the monthly shipment volume is up to 9,000,000 pcs. Therefore, a very large monthly shipment volume is required to meet the normal operation of the factory.
This is only the 5.1 generation TFT-LCD line, if it is 8.5 generation line or even 10 generation line or more, then the cost and shipment volume may be several times or even ten times more. It should be noted that the number of generations of LCD lines does not mean that the technology is high or low. The higher the generation, then the larger the size of the LCD can be put into production, of course, the greater the volume of shipments and investment amount.
LCD original manufacturers generally provide mainly LCD panels, but also provide COG (LCD + IC), FOG (LCD + IC + FPCA cable) and other kinds of LCD semi-finished products. Also includes a small amount of the original LCD module. But the original LCD factory will only deal with the famous brand companies directly (such as Apple, Dell, Xiaomi, etc.), or through agents to ship. And the MOQ quantity requirement is very high (generally 1,000,000 pcs/month or more), the unit price of original LCD module is also high and the degree of customization is low.
Advantages
Disadvantages
High shipment requirements
High customer requirements
LCD semi-finished products
Basically do not provide customized services
Suitable customers
Brand customers with huge shipments
2. LCD Agent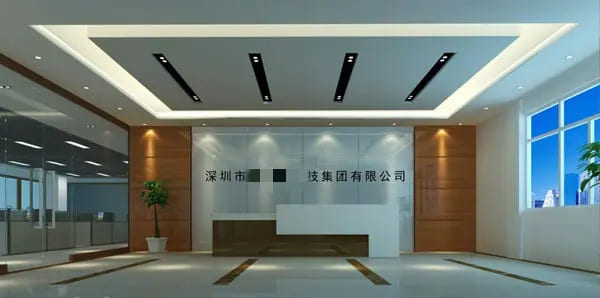 LCD agents are authorized distributors of the original LCD manufacturers. They also sell mostly semi-finished LCD products, but also provide a small amount of original LCD modules. They are generally located in China mainland, Korea, Hong Kong and Taiwan. Distributors serve smaller customers, but also do not support customization and do not stock spare parts.
LCD original manufacturers usually have an order MOQ requirement for their agents, which translates into an LCD unit quantity of no less than 100,000pcs/month. When the LCD demand is high, this will not be a problem; but when the market is low, the agent must buy the agreed MOQ quantity of LCD from the original LCD manufacturer even if there is no customer demand for the time being. So when the low season, if your order quantity is large enough, then you may get a very good LCD panel price from the LCD agent, which may even be lower than the agent's purchase price.
Advantages
Disadvantages
LCD semi-finished products
No customization
Suitable customers
LCD module manufacturers
Standard product customers
3. LCD Module Manufacturers
LCD module manufacturers is to purchase LCD semi-finished products (such as LCD panel, COG or FOG) from LCD agents, then purchase ICs from IC agents, produce or purchase backlight, FPCA cable and touch screen components, and then integrate all the above components into LCD module or touch LCD module. LCD module factories vary in size from tens of millions of pcs to hundreds of thousands of pcs shipped per month.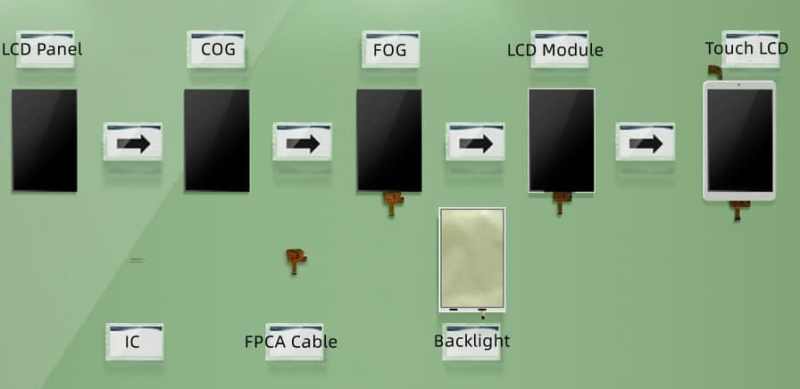 The production mode of medium and large size module factories (15.6 inches or more) and small and medium size module factories (0.X~10.1 inches) are different.
Medium and large size module factory generally get the semi-finished products are FOG LCD (also known as open cell LCD) from the original LCD manufacturers or LCD agents, and then add the backlight assembly into the finished LCD module. The advantage of doing so is that the quality is relatively stable, but the degree of customization will be much lower. Because FOG LCD already includes FPCA cable, generally speaking, the only thing that can be customized is the brightness of the backlight and the touch panel and cover glass (if needed). The rest are difficult to change, unless the customer's LCD demand is very large.
The small and medium size module factory after years of mature development of the industry, the degree of customization will be much more flexible. The semi-finished products are mainly LCD panels, which means that the backlight size, backlight brightness, FPCA cable design, shape and PIN number, as well as the touch panel and cover glass can all be customized according to the customer's requirements. But the MOQ requirement is higher for the backlight size. Other parts of the customization generally require LCD MOQ of at least 2,000~5,000 pcs, which varies depending on the LCD size.

Since LCD module manufactures vary in size and quality control(especially small and medium size LCD module factories), and most of the components are sourced, the selection of module factories is particularly important if customers want to buy LCDs with good quality and competitive prices.
How to identify whether it is a reliable LCD module manufacturer?
1)Whether it has a long and stable shipment, and the company operation time is better more than 8 years.
2)Have a reliable quality management team and inspection and testing process
3)What is the main type of their customers.
For example, if the factory's customers are mostly low-cost products or repaired product manufacturers, then it can be assumed that the quality of his products is not too good, LCD panels and some other components may be B-grade products, not A, can only meet short-term use.
4)Whether it has a wealth of LCD original manufacturer or LCD agent channels.
This is essential to ensure supply. In case of supply shortage, many module factories with insufficient upstream channels sometimes cannot even start production. Because they can not buy raw materials such as LCD panels and ICs.
Advantages
Highly customizable
Competitive price
Disadvantages
Quality and supply capacity varies, need to be carefully selected
Suitable customers
Customers with medium-sized shipments
4. Trading Company
As the name implies, trading companies do not have their own factories, but directly sell finished LCD products from LCD resellers or LCD modules from module manufacturers. Generally speaking, the LCD prices of trading companies are relatively high and the quality and reliability are a little weaker. However, there is no shortage of good trading companies with good quality management teams and good upstream channel resources. The biggest advantage of trading companies is their flexibility, which can meet the diversified needs of customers.
Advantages
flexible, high degree of customer demand satisfaction
Disadvantages
High price
Insufficient quality and supply competitiveness
Suitable customers
Customers with small orders and high degree of customization
Another very important point for LCD customers when choosing an LCD supplier is to try to choose a supplier located in Shenzhen, China.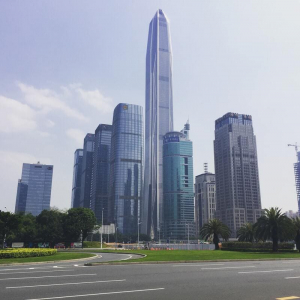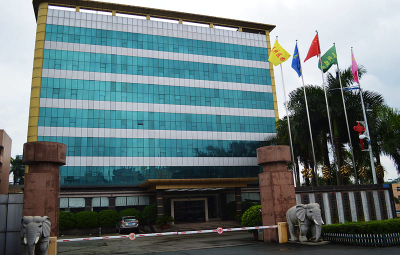 There are several reasons for this:
1) Shenzhen is the most complete and developed area of the LCD industry chain in the world.
2) Shenzhen has 3 types of buildings related to lcd (including other electronic products): office buildings, factories and markets. Almost all LCD panel and IC agents are located in various office buildings in Shenzhen, while component factories such as FPCA, Touch panel and backlight are located in various industrial parks in the suburbs. It is possible to find the right components and develop new products in the shortest time. Of course, there is also the famous Huaqiang bei(north) Electronic Market, a very complex place.
3) Only a river away from Hong Kong, the international transportation industry is well developed, and LCD shipments are fast.
VISLCD was a trading company in the early days. But after nearly 9 years of development, it has developed into a combination of LCD module factory and LCD agent. The company is located in LCD base Shenzhen, China and operates in both Hong Kong and Shenzhen. We have our own module factory and have direct relationship with Century Display, LG, HKC and other LCD original manufacturers. Our main employees are also from these LCD manufacturers. We also accept all kinds of customized LCD business. Therefore, VISLCD is one of the best choices for medium-sized customers in terms of quality stability, semi-finished parts supply and customization.